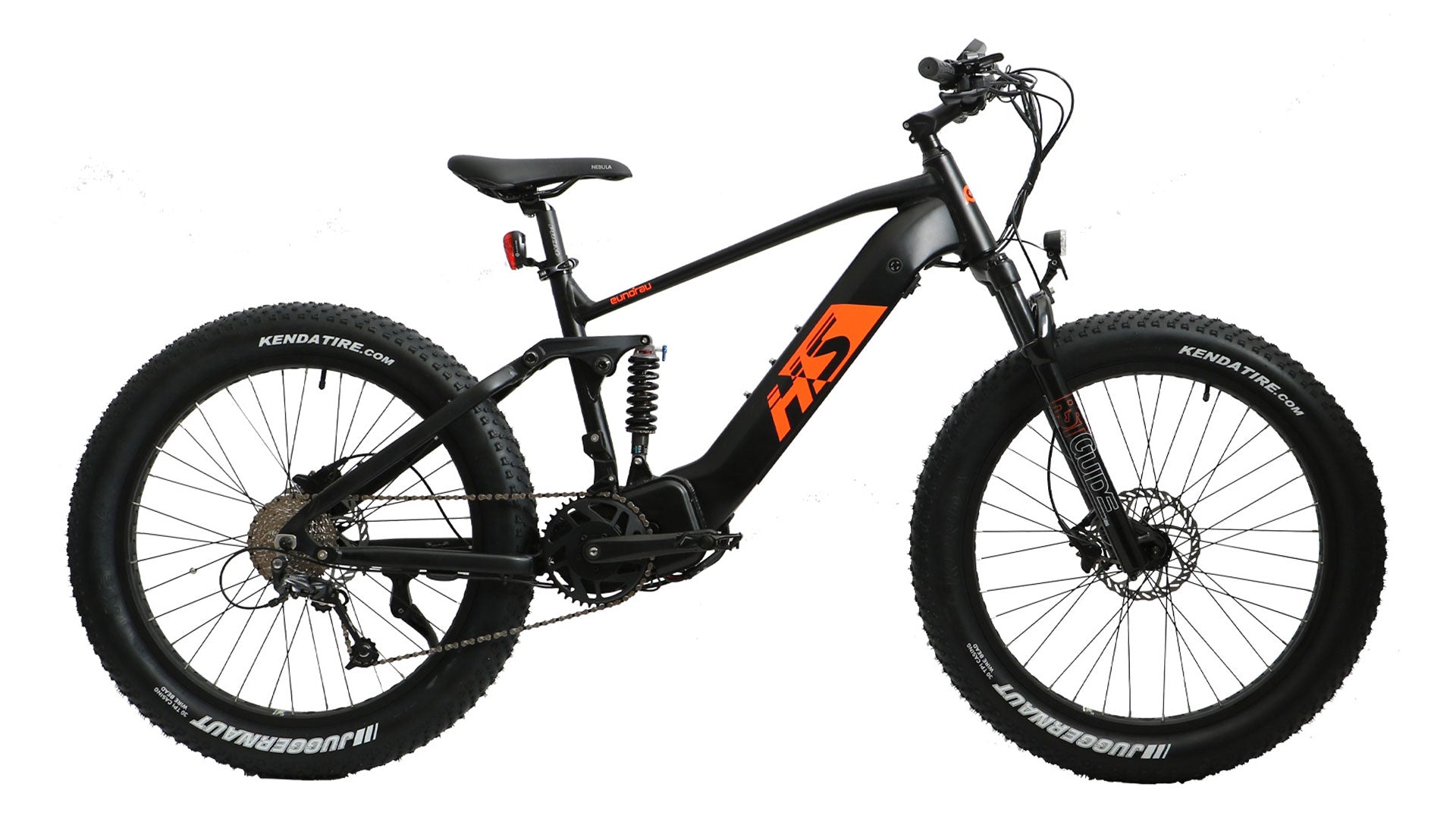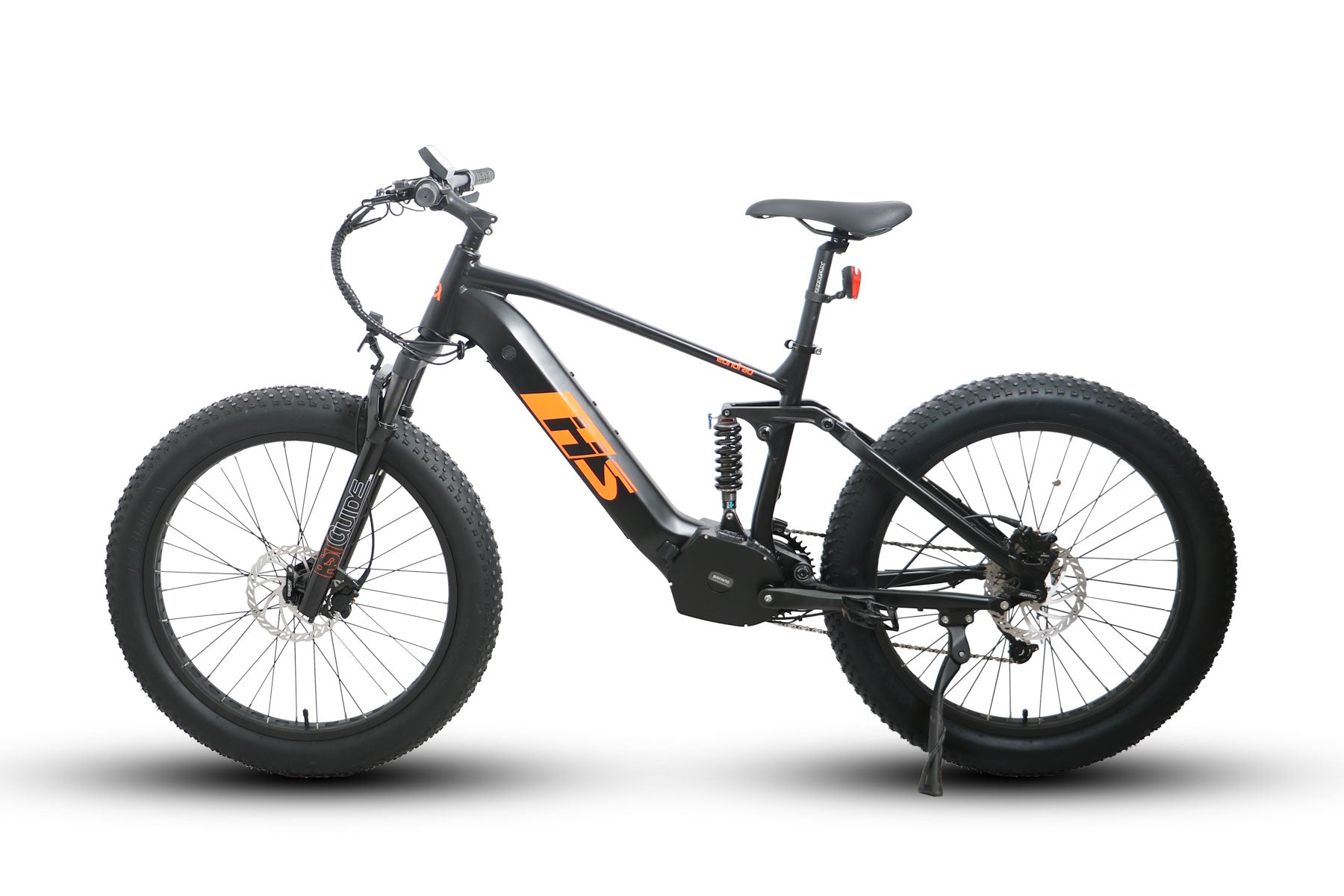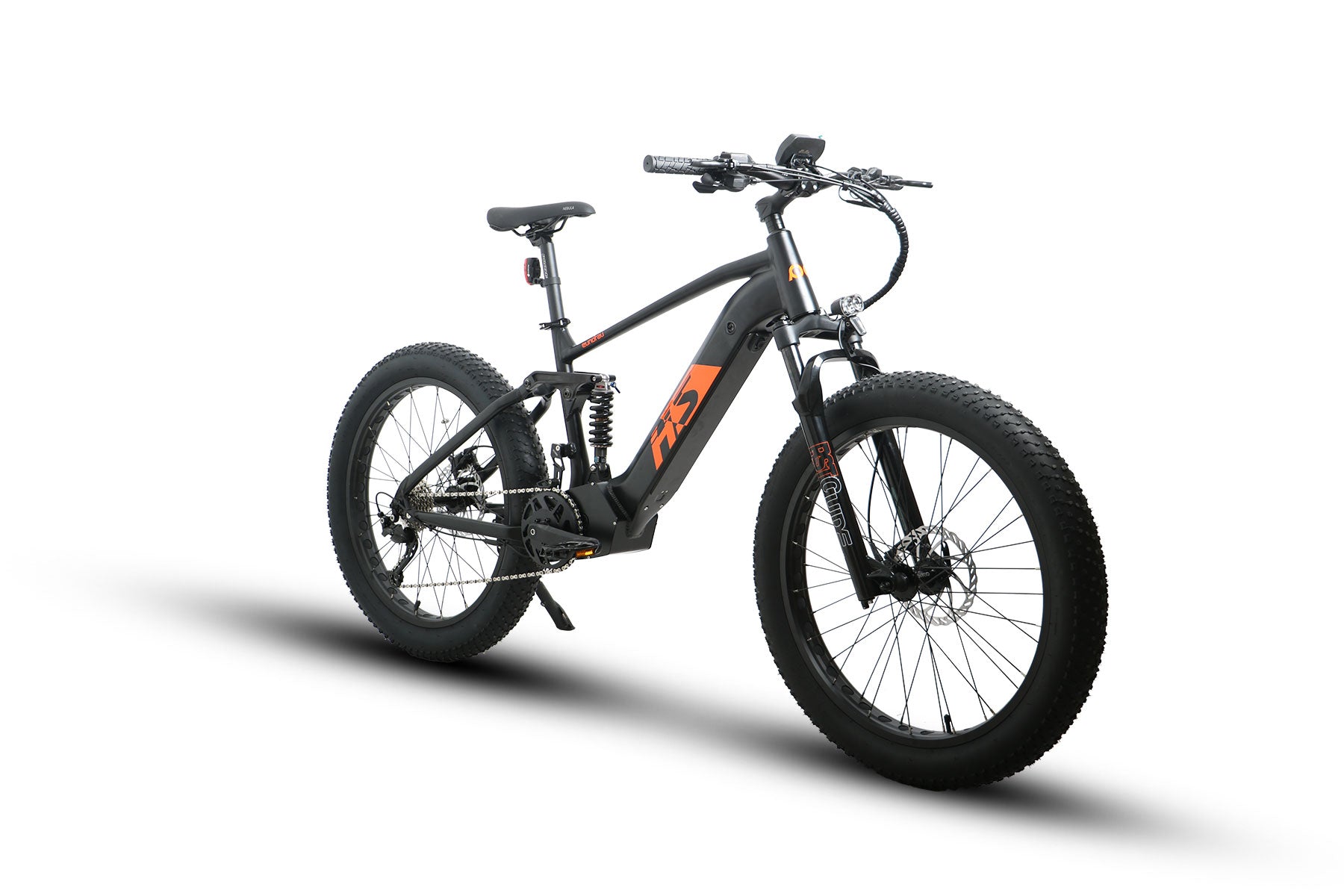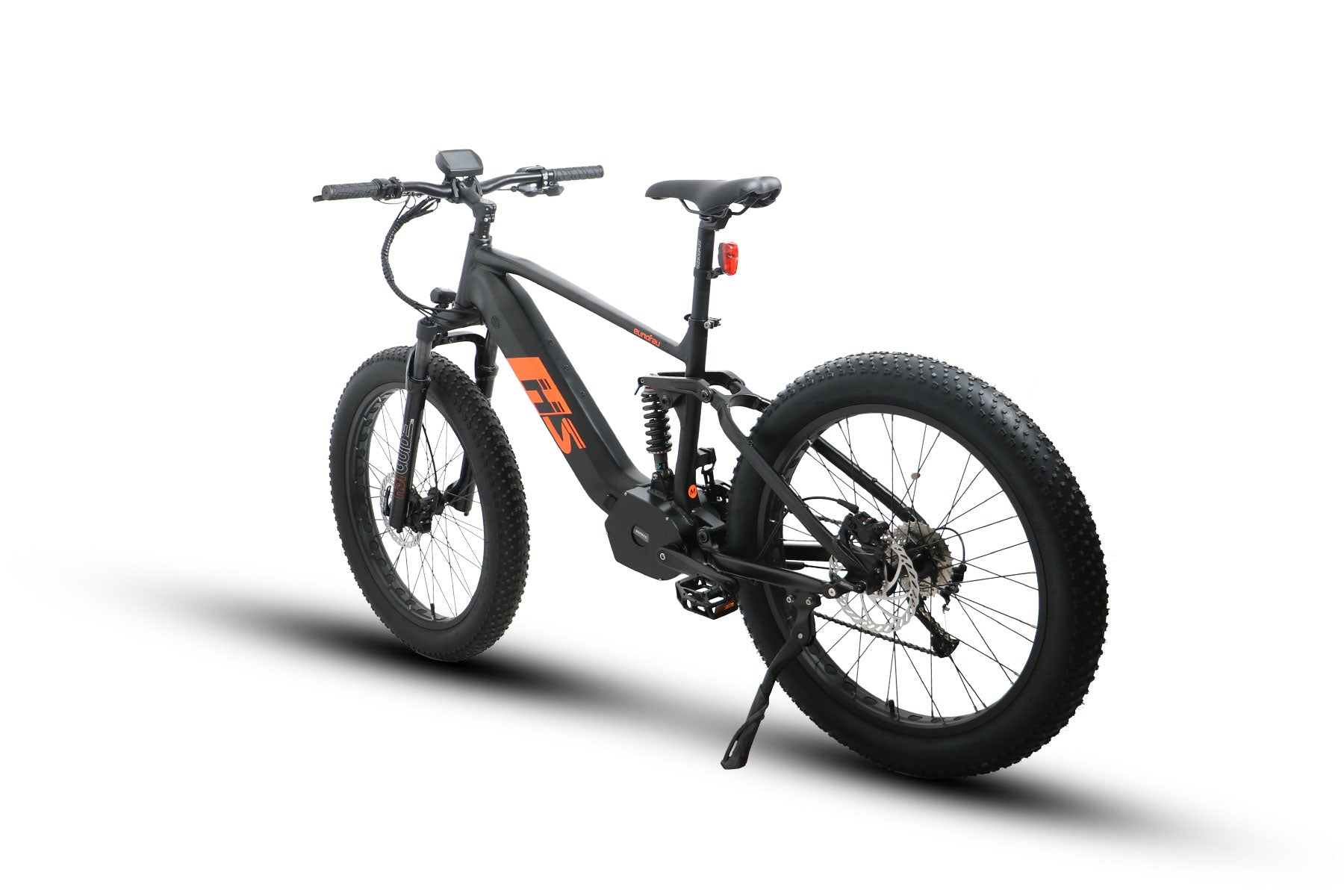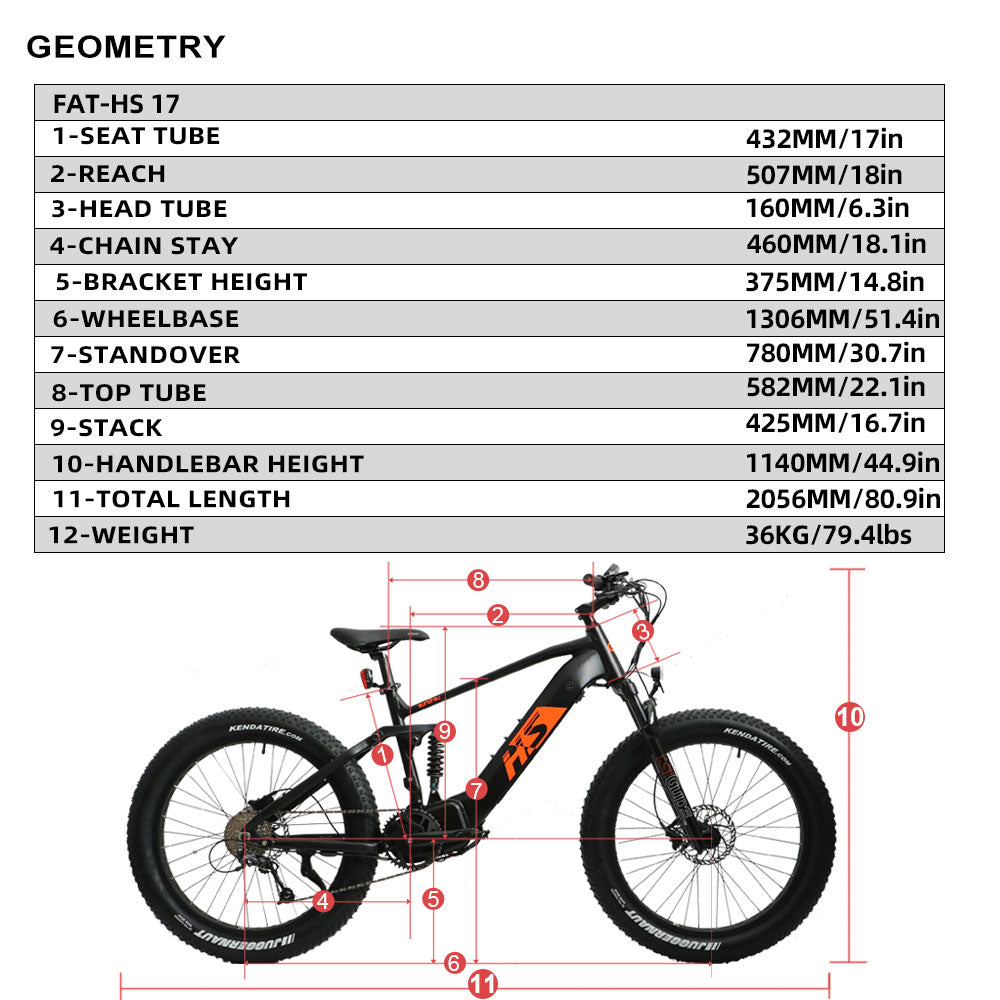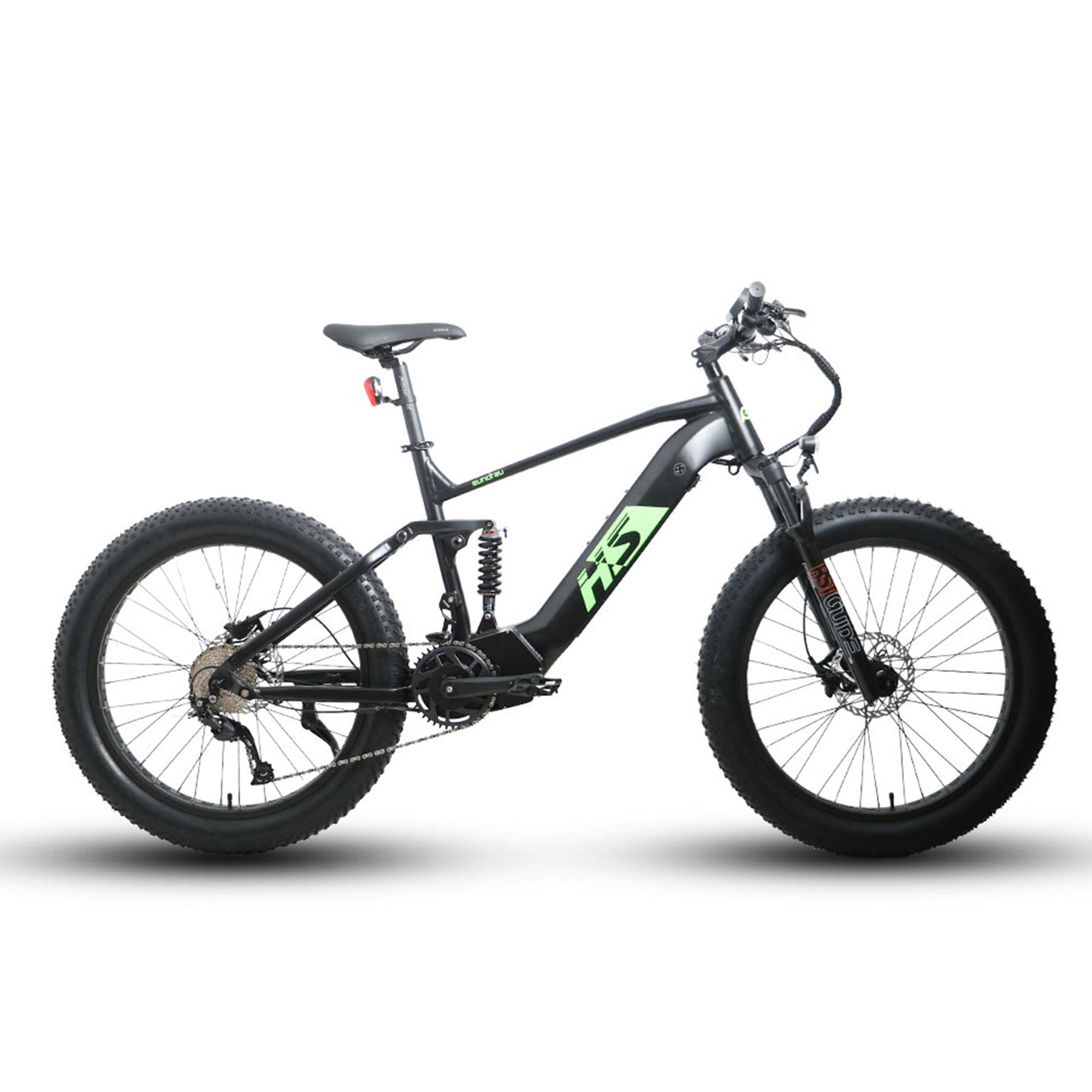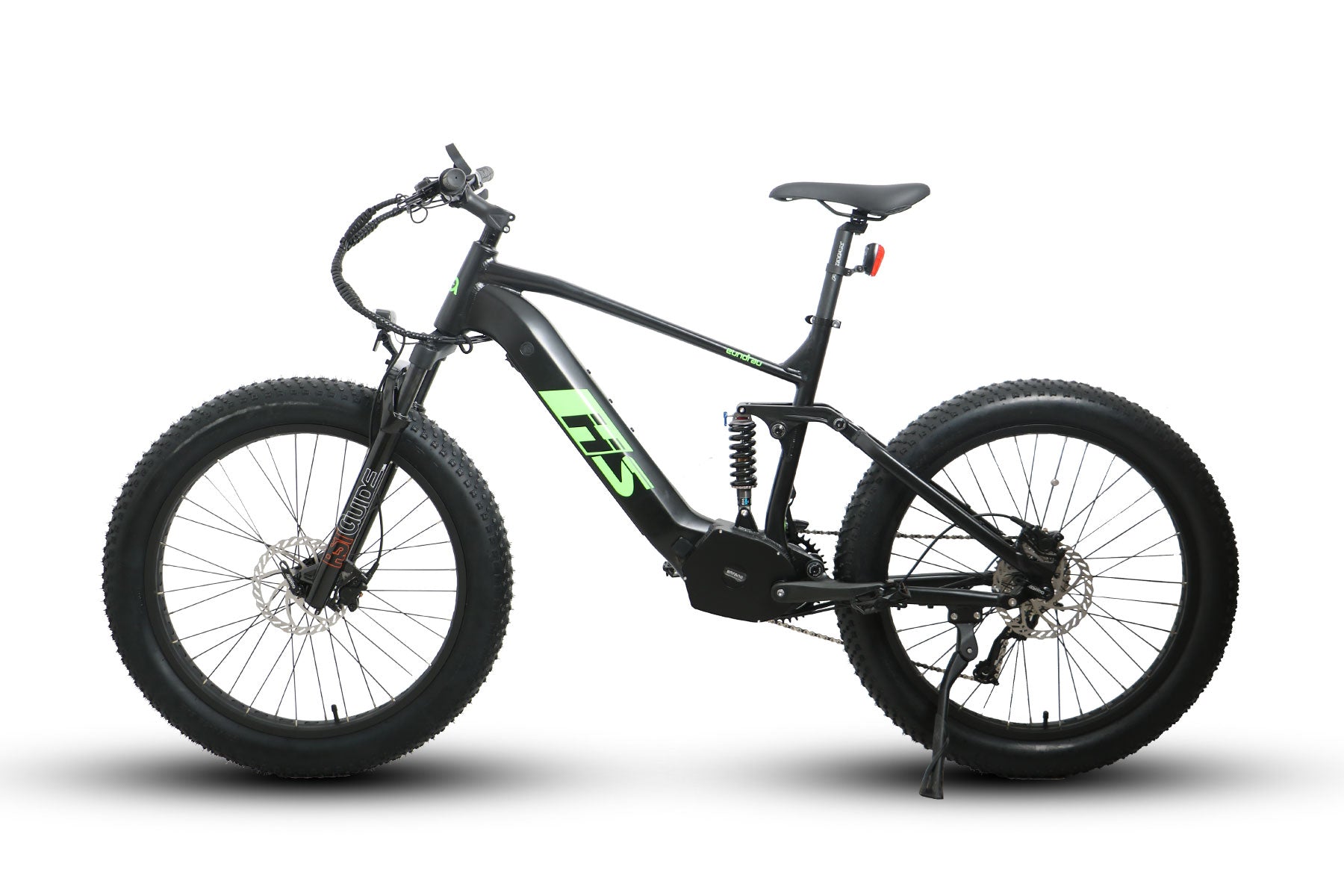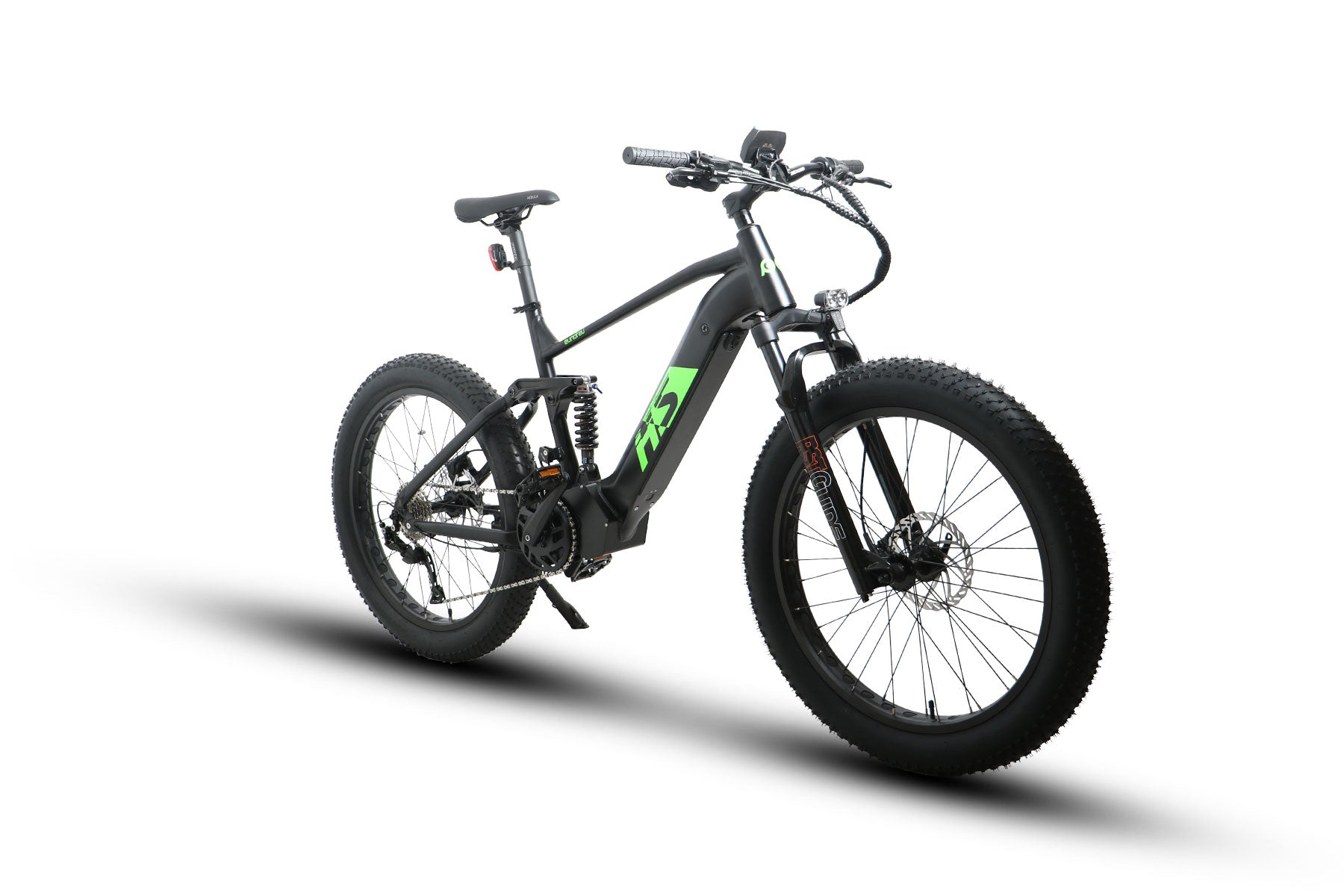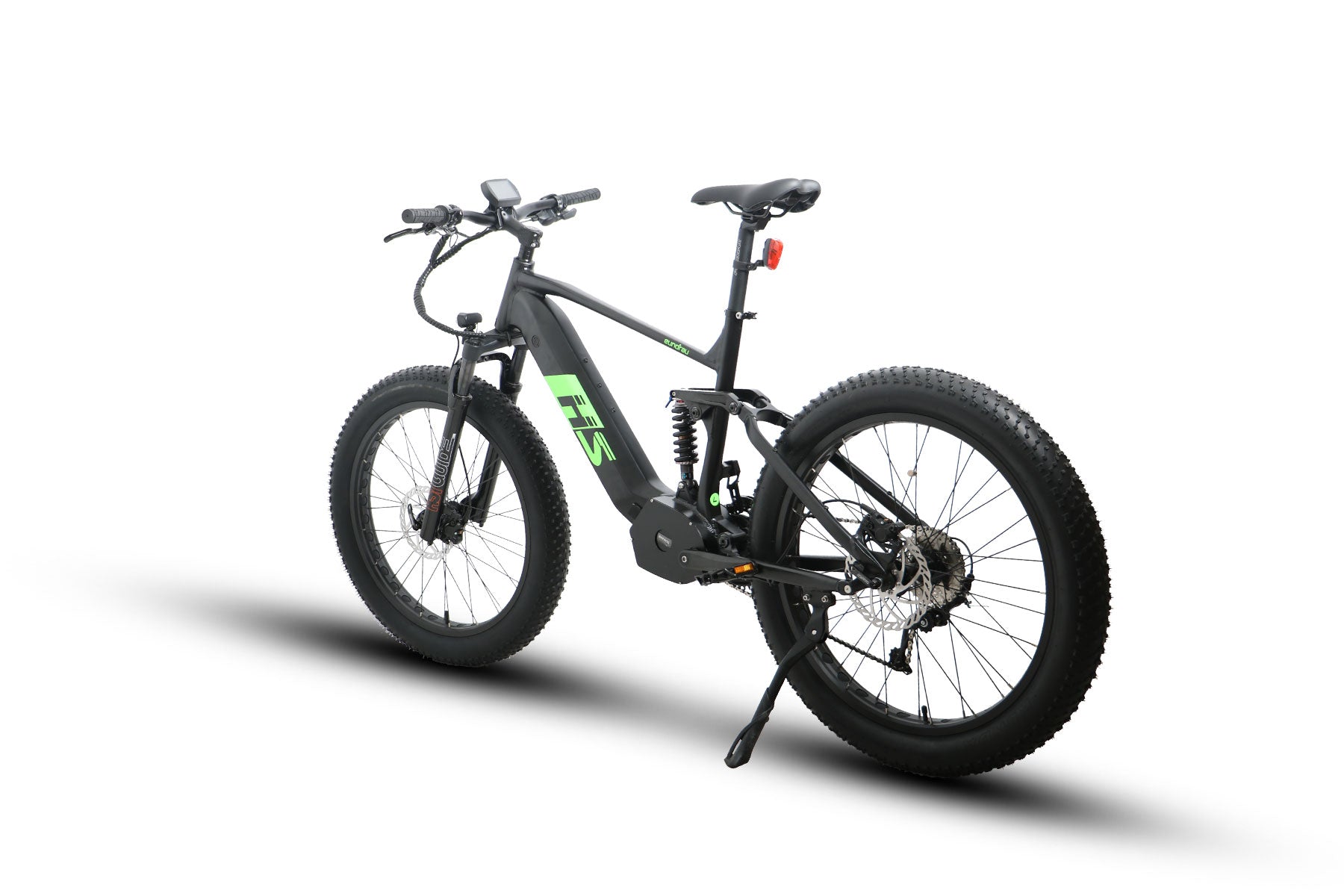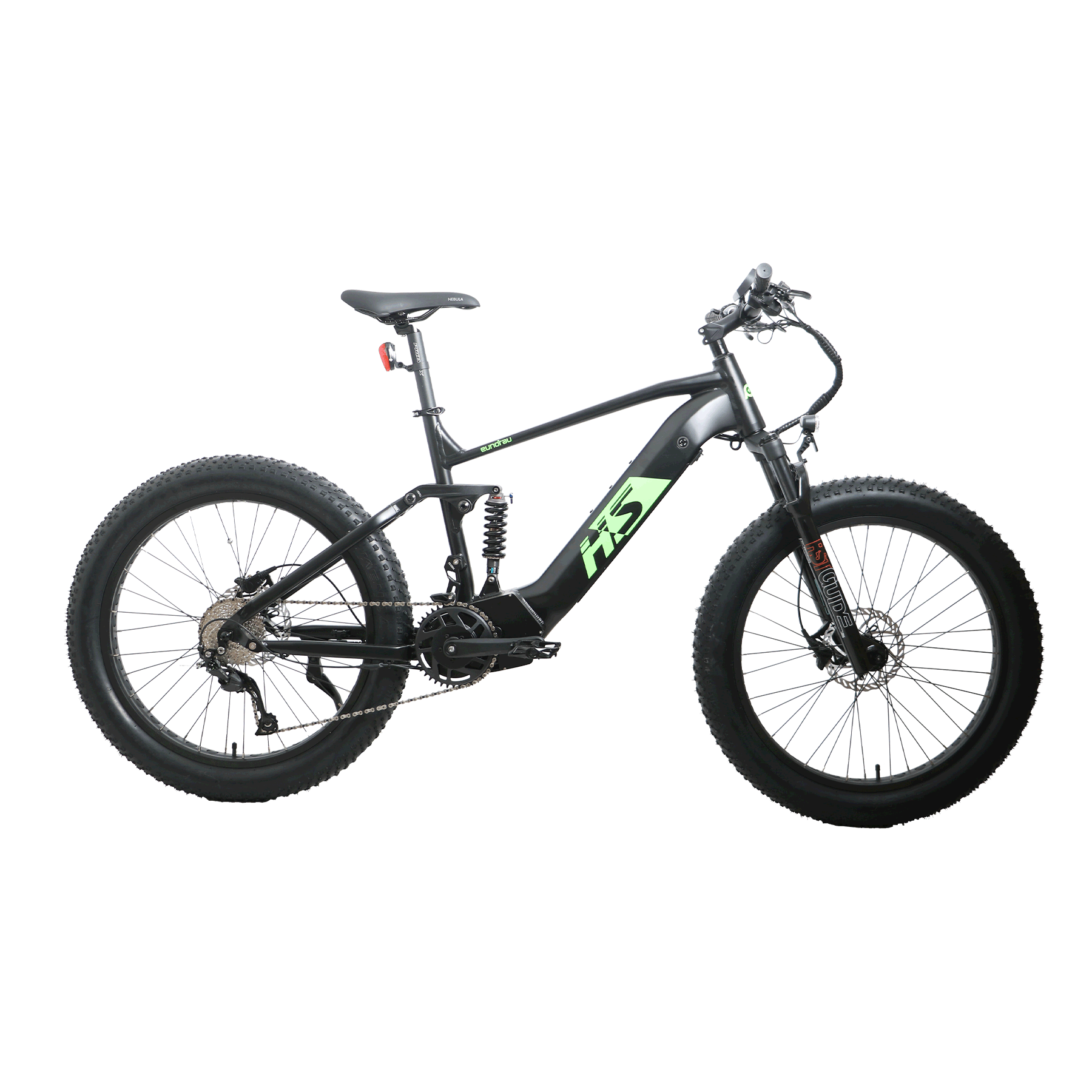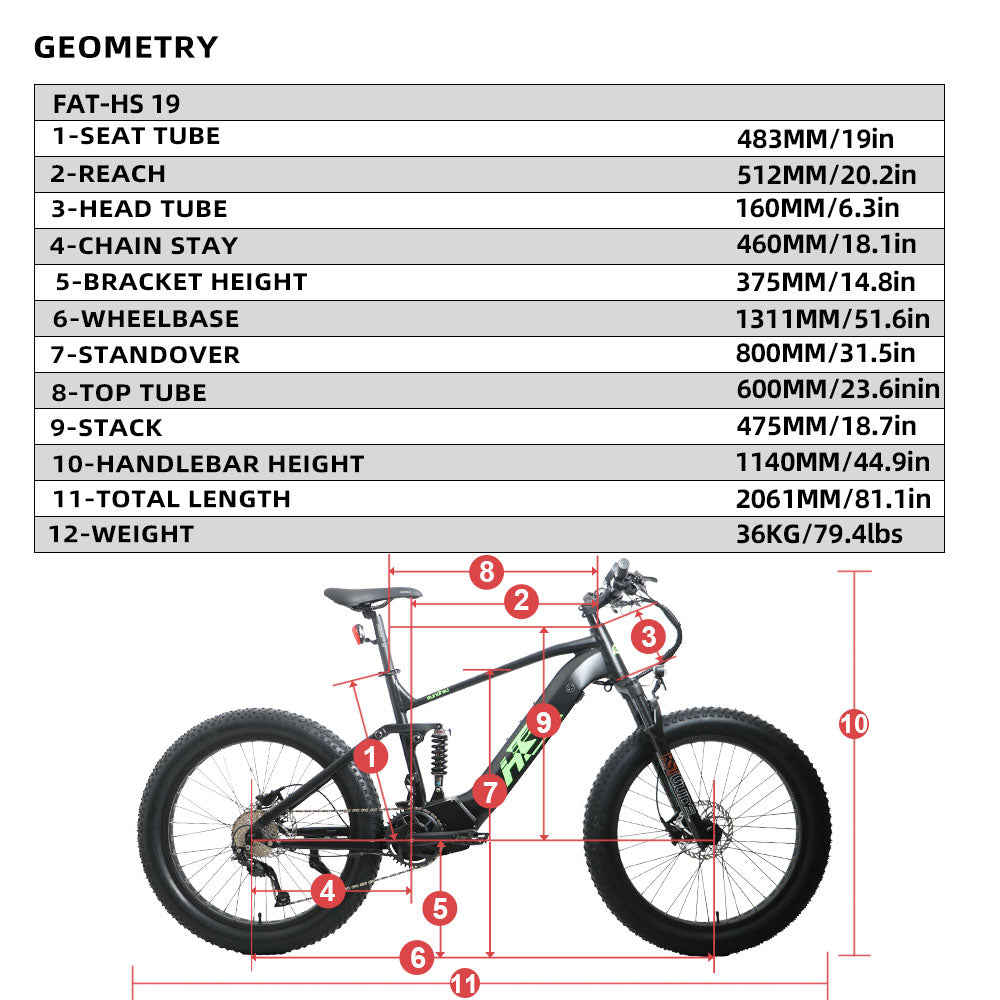 Regular price
$3,899.00AUD
Sale price
$3,899.00AUD
Regular price
4 people are viewing this right now
Free Shipping: On all orders over $100
Product Description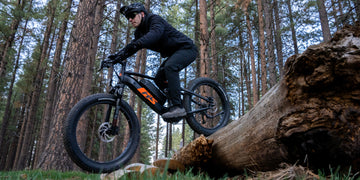 "I like the FAT-HS as a back-country adventure bike on larger, longer trails."
With dual suspension, dual batteries, and an overpowered mid-drive motor, the bike is perfectly capable of carrying staunch adventurers back to nature.
For fire roads and even commuting to the trail, you're in the right place with this beastly heavy bike.
Electrek Reviews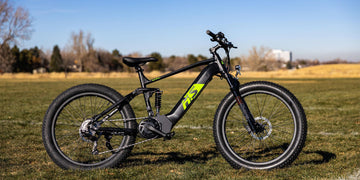 Mid Motor & Dual Suspension & Dual Battery
The FAT-HS has a Bafang mid-drive motor with 1000 nominal watts of power and a whopping 160 Newton meters of torque, for a max speed of 48 km/h. This motor feels every bit as powerful as it sounds, and because it's a mid-drive it's also able to utilize the gearing of the bike for either extra torque or extra speed, depending on what gear you're in. This is a feat that hub drives simply cannot do. It's also something you absolutely want if you plan on tackling extremely steep hills, deep mud, snow or sand, or if you plan on towing a trailer with extra gear, which is something you could most definitely do with the FAT-HS.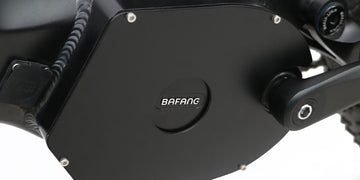 Bafang M615 BBSHD Mid-Drive System
The Bafang M615 system features the G320 electric motor with over 1500 watts of peak power, 160Nm of torque and cadence-sensing assist. This allows you to span cities, climb hills, and explore all the places you want to go with ease.
Front Suspension Fork
Absorbing a lot of jarring bumps and shocks on rugged routes, the RST fork helps maintain your energy, helping you focus on riding better and faster.
Features
With this 9 speed freewheel, there is a larger cog for up-hill riding and a smaller cog for high-speed riding. Speed can be easily adjusted with the pedal-assist system.
Light the path with the front light powered by the bike's battery. It can be turned on/off on the handlebar control pad. The headlight is bright enough to make night driving much safer and more enjoyable.
The rear suspension sets the FAT-HS apart from the rest of our lineup, making it the ultimate eBike. Take on any trail with maximum comfort and control. (Note: To avoid any damage, please lock out the rear shock when you install the 17A second battery.)
This display has bright numerics and is easy to read even in direct sunlight. With waterproof connectors, it displays battery life, speed and distance, and has push mode - a feature to use in the circumstance of pushing the bike uphill.
This removable battery system is a game changer that offers unmatched convenience when re-charging. With a simple twist of a key, you can take out the battery and put it to charge.
26"x4" Kenda Krusade Sport fat tyres provide upgraded grip and traction on rugged roads. Whether you're up against sand, mud or snow, these tyres will handle it with ease. The EUNORAU FAT-HS is ready for all-season, all-terrain riding.
These brakes are sensitive, but provide efficient and ample force when braking. When riding in harsh conditions, they break swiftly and can be relied upon to ensure your safety.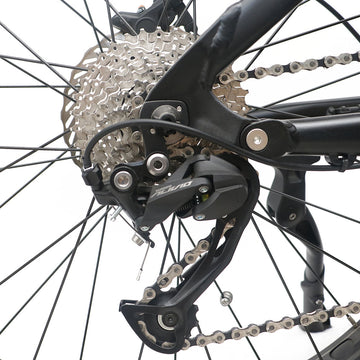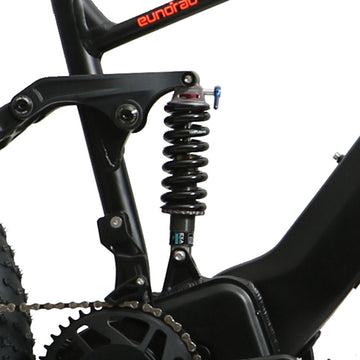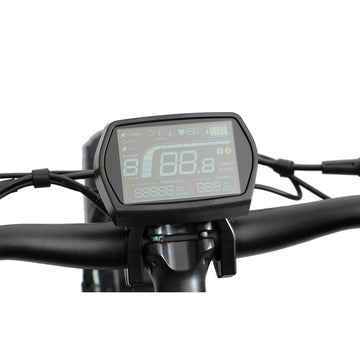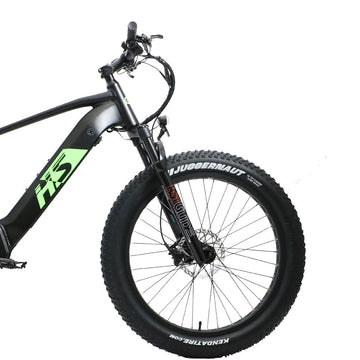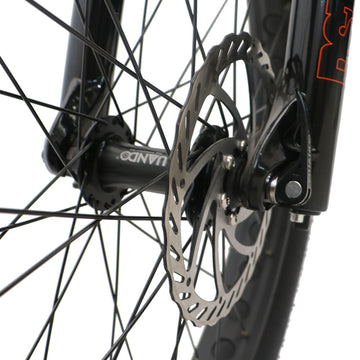 Product reviews
Specs
Shipping & Return
How-To Videos
Unbelievable and Awesome are the
Unbelievable and Awesome are the two words to describe Eunorau organization. We have had ebikes from other vendors that can't compare to their quality and service. If anyone is considering an ebike be advised by a couple who has spent hours researching them and being disappointed by others purchased, Eunorau bikes are second to none. I rate them a ten star!
- Eunorau is honored to have you as a customer.
- You have chosen wisely with Eunorau. Thank you!
- We are delighted that you have selected Eunorau.
Looking forward to many miles of travel
The final product is fantastic. I would have appreciated written instructions because I had no familiarity with the assembly. Also my front brake rotor was bent in transit. I had to go to a bike shop to get it fixed. It is good but not perfect. I do look forward to receiving the 7 by 3 wheel sets when they are available.
- Thank your for choosing Eunorau
It is giving me a
It is giving me a great week out for a 73 year old and I am enjoying it greatly
- Eunorau is honored to have you as a customer.
Specification
Battery: 48V15Ah Standard + Optional second battery 48V 14Ah/17Ah)
Range: 130 km (48V/17Ah SAMSUNG Cells + Second battery 17Ah)
Motor: 48V1000W Bafang M615 mid motor with 160 N.m torque
Total Payload Capacity: 136 kg
Recommended Rider Heights: 159~193 cm
Maximum Speed: 48 km/h
Charger: AU standard 2.0 A smart charger
Controller: 48V
Display: CDC6 LCD display
Weight: 35 kg
Pedal Assist Intelligent: 0~5 level pedal assist
Box Dimensions: (cm) 172 L x 35 W x 85 H
Components
Tyres: Kenda krusade sport tyres 26" x 4.0" with K-Shield protection
Brake lever: Hydraulic disc brake levers with motor cutoff switch
Rear Light: Taillight
Shifter: SHIMANO ALTUS/SUNRACE RDM91 - 9 speed gear shift system
Brake Rotor:EUNORAU design 180MM hydraulic disc brakes
Throttle: Thumb throttle
Stem: EUNORAU TDS-D507G-8FOV
Crank: 170mm forged alloy
Cassette Shimano 11-34T
Fork: RST GUIDE 75mm travel
Shock: KS-388RL,48mm (To avoid any damage, please lock out the rear shock when you install the 17A second battery)
Pedal: Nylon pedal with reflectors
Frame: Aluminum alloy 6061 full suspension
Front Light: 6-60V LED light
Saddle: Comfort Saddle, Height to Ground 94-110 cm
Tool: Included
Chainring: 42T 7075 CNC chain-wheel crank
Rims: 26 inch black alloy wheels
*NOTE: this ebike is sold with the left hand controlling the front brake, and the right hand the rear brake.
Geometry
* EUNORAU has the right without notice to the consumer to substitute components of at least equal quality for advertised EUNORAU ebike components in the event of the unavailability of such advertised components
Processing time: 1-3 business day.
Shipping time: Based on the Country and Shipping methods.
Shipping Methods:
A.Electric bikes FREE SHIPPING to Australia will ship by TOLL/TNT from warehouse located Melbourne. Estimate delivery time 5-7 days.
B.Conversion kit & Parts, more than 100AUD, ship by Fedex/UPS from factory with FREE SHIPPING. Estimate delivery time 10-15 days.
C.Batteries ship by Fedex from factory with FREE SHIPPING. Estimate delivery time 15-20 days.
D.Spare parts, less than 100AUD ship by Economic Post from factory, Estimate delivery time 15-30 days; If you prefer to ship by express, please choose +15AUD shipping method when you check out the order.Estimate delivery time 5-7 days
E.Shipping instructions: FREE SHIPPING.
Notes:
(1) If the delivery address is determined by the freight carrier as a remote area, a certain shipping fee needs be charged based on the original free shipping & the charged fee.
(2) If out of stock at local & nearby warehouse, Conversion kit & parts and Batteries you purchased will directly ship from China. If applicable, there may be no tracking progress generation from UPS/FedEx until the package arrives destination country and clears customs. Estimate delivery time 10-15 business days.
* Sincerely appreciated for your patience in advance!
What Online Reviewers Say