News
Affordable Cargo E-bikes Blix Packa VS Eunorau MAX-CARGO
Mar 24, 2020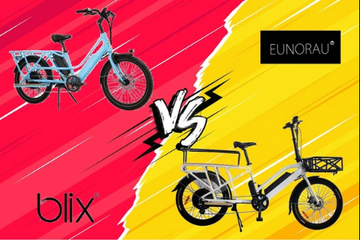 Cargo bikes are getting more popular. Eunorau long tail and Blix Packa are two of the more affordable long tail cargo electric bikes. We will review and compare their major components and compare their value propositions.
Here we will cover them and compare with each other in terms of motor, battery, ease of use, specs and price points.
Blix Packa and Eunorea Long Tail Cargo bike both come with hub motors. It is hard to expect a mid-drive electric bike at this prices.
But there are minor actually major differences.
Eunorau comes with a 750 watt nominal and 1000 watt peak power output
Blix Packa comes with 500 watt nominal and 750 watt peak power output
So it is obvious Eunorau Long tail offers a much powerful motor.
Besides that Blix Packa comes with a direct drive hub motor which is also called direct drive hub motor. Direct drive hub motors perfect ok at flat surfaces. But they lack climbing power on hills as they don't have any gears.
Here I have to let Eunorau Long Tail electric cargo bike to be the winner. As it offers a more advanced and more powerful electric bike motor.
Both electric bikes use cadence sensor which works well. Sure cadence sensor isn't as good as torque sensor but at least In Eunorau it is compensated with 750 watt hub motor.
To learn more about mid-drive motors you can check our article about mid motors vs hub motors.
Blix Packa comes with standard downtube battery. You have chance to buy  another battery which is mounted behind the seat tube. Second battery as you may guess is optional and costs $599.
Default battery is 48V and 10.5 ah which makes it 504 wh. You can expect to ride it for 20 miles on realistic value without a heavy load. Direct drive motors aren't super efficient as mid-drives so you need to sacrifice from range. But if you have secondary battery which is 48V and 14ah, your range will be more than doubled.
Eunorau comes with a bigger default battery which is 48V 11.6ah. So you can ride your e-bike for 20% longer than Blix Packa.
Blix Packa has some strong points such as being able to have dual battery. But this means increasing weight of your e-bike and also spend another $599.
Eunorau don't offer dual battery but offers a bigger battery pack.
Both have similar chargers which can charge your e-bike battery at 2 amp. They are both very reliable chargers.
As they aren't high end Cargo Bikes such as TERN GSD, I will vote winner considering cost parameter. And Eunorau is winner. It offers a larger standard pack at lower price.
In a cargo bike we need to check functionality of both e-bikes. What do we mean by that ? How much we can load and how many different task can be done.
Both e-bikes have very similar frames so my first idea is both going to deliver similar results.
But there are few differences.
As Blix Has an optional battery behind seatpost, rear rack can't be fully utilized. In this way you can use 80% of the rear rack. On the other hand Eunorau let you use 100% of the rear rack.
Blix Packa let you hang pannier bags all across the rear rack. On Eunorau you can only hang on rear end of rear rack.
Both has Feet stand which let second passenger to sit and have a safe comfortable ride. This is very well thought and designed feature.
Both has similar front basket which is mounted on a porteur rack.
Now let's check cost of them;
Eunorau Long tail offer full set of accessories. And it costs you extra $400. In this set you will get

Porteur front rack
Basket
Rear rack passenger bar

Blix Packa offers accessories seperately.

Rear Rack passenger bar costs $199
Front Basket $129
Front Rack $79
So both of them offer accessories at the same price. So here in terms of functionality I need to vote draw. You will get similar functionality with minor differences.
So If you want to carry lot of goods and utilize rear rack more, Eunorau can be better fit. If you want to carry more than 2 panniers than Blix may better fit. But they are really very minor differences.
DISPLAY AND OTHER ELECTRONICS
Both E-bikes offer LCD Displays. Blix uses more outdated display but it is large in size and easy to read.
Eunorau offers newer display which is on the side of your compartment. Small size make it more difficult to get damaged. Both e-bikes displays offer USB ports.
There is one major difference for displays and it is colored. You may think such low priced e-bike won't be able to offer you a colored display. Eunorau surprised me with their colored display. It makes riding at night easier.
I have to give my vote to Eunorau as it offers a more modern and full colored display. Also the display provides better and simpler interface which is very intuitive to understand and use.
FRAME WEIGHT AND OTHER DETAILS OF E-BIKES
Both electric bikes weight same which is 72 lbs. So there isn't a major winner in terms of frame weight.
Both electric bikes offer Tektro Mechanical disc brakes which work very well. They aren't hydraulic so need more adjustment and you need to apply more power.
Drivetrains are similar 7 speed shimano. They are pretty standard in this price e-bike segment.
For headlight even they offer similar, I don't like headlight position of Blix. It is little bit bizarre and shakes a lot during ride. Headlight is mounted on the fender and It looks open for impact. I prefer headlights which are attached to the frame or front basket.
There are some small details Eunorau offered such as skirt protector on rear fender. So Passenger can sit on rear rack without worrying to stain her skirt.
Eunorau also offers telescopic handlebar like folding bikes. It makes Eunorau easier to load to large Van. For Blix Packa it will be an issue due to height of the e-bike.
VERDICT ABOUT COMPARISON OF THESE E-BIKES
Blix Packa offers more accessory options which comes with cost. Also it offers you to use additional battery but also that comes with extra cost.
Eunorau offers a more powerful motor and slightly larger battery pack.
Other parts of these e-bikes are similar with minor differences.
But there is a big difference in terms of pricing. Blix Packa price is $2399 on the other hand Eunorau costs only $1599.
So without doubt I would put my money on Eunorau.
Also instead of buying additional battery for Blix Packa, you can use that money to buy almost two Eunoray long tail electric bike.