News
Introducing Genesis Helmets: Where Innovation Meets Safety
Nov 17, 2023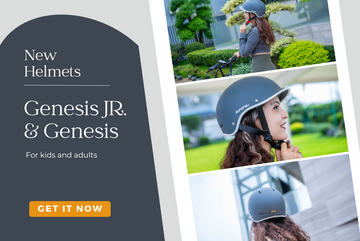 Introducing EUNORAU's Latest Innovations: The Genesis JR. and Genesis Helmets
We're excited to unveil the newest additions to the EUNORAU family: the Genesis JR. for children and the Genesis for adults. These helmets are meticulously designed to ensure safety, offer comfort, and add a touch of style to your cycling adventures.
Genesis JR.: Combining Fun and Safety for Children
Adjustable Dial Fit System
The Genesis JR. is not just a helmet, it's a meticulously engineered protective shield designed to safeguard your child's head and neck during their adventurous pursuits. Despite its robust protective features, it is incredibly lightweight, with a weight comparable to that of an apple. This ensures that the helmet does not cause any discomfort or strain, even when worn for extended periods of time.
The design philosophy behind the Genesis JR. is one of uncompromising safety without sacrificing comfort. The helmet is designed to fit comfortably on head sizes ranging from 49 to 53 cm. This wide range of adjustability ensures a snug and secure fit for a variety of head sizes, providing optimal protection without compromising on comfort.
Thickened EPS Foam Lining
The lightweight nature of the Genesis JR. helmet is a testament to the advanced materials and innovative design techniques employed in its construction. Despite its feather-light weight, it provides robust protection, acting as a shield that can absorb and dissipate impact forces, thereby protecting your child's head and neck from potential injuries.
The Genesis JR. helmet is not just a piece of protective gear, but a certified companion for your child's adventurous spirit. It is designed to be versatile, catering to a range of activities including biking, roller skating, and skateboarding. This means that no matter what your child's preferred mode of exploration is, the Genesis JR. helmet is there to ensure their safety.
But the Genesis JR. helmet goes beyond just protection. It is equipped with a magnetic rear light that serves a dual purpose. Firstly, it enhances visibility, making your child more noticeable to others on the road, particularly in low-light conditions. This is a crucial safety feature that can significantly reduce the risk of accidents.
The rear light offers three distinct modes - steady, slow flash, and meteor flash. The steady mode provides a constant source of light, ideal for when your child is moving at a consistent pace. The slow flash mode is perfect for situations where your child is likely to be stationary for periods of time, such as waiting at traffic lights or pedestrian crossings. The meteor flash mode, with its rapid, attention-grabbing flashes, is designed for high-speed activities where maximum visibility is paramount.
The helmet, designed with meticulous attention to detail, is equipped with removable and washable soft foam pads. These pads not only provide a comfortable cushion for the wearer's head, but also ensure a high level of hygiene. The ability to remove and wash these pads means that they can be kept clean and fresh, reducing the risk of skin irritation and ensuring that the helmet remains pleasant to wear even after prolonged use.
In addition to comfort and hygiene, the helmet also prioritizes the wearer's well-being in terms of temperature regulation. It features a total of 8 strategically placed vents that facilitate the flow of air. This innovative ventilation system allows for a continuous circulation of air, effectively dissipating heat and helping to keep the wearer cool. This feature is particularly beneficial during outdoor adventures, where physical exertion and environmental conditions can lead to overheating.
Recognizing the innate creativity and individuality of children, we have included a pack of removable stickers with every Genesis JR. helmet. This feature transforms the helmet from a mere piece of protective gear into a canvas for self-expression.
Children are naturally drawn to colors, patterns, and the joy of creating something that is uniquely theirs. With these stickers, your child can personalize their helmet in a way that reflects their personality and style. Whether they choose to create patterns, depict a favorite character, or simply add a splash of color, the possibilities are endless.
This not only adds an element of fun to the otherwise functional gear but also encourages a sense of ownership and attachment to the helmet. When children are able to personalize their gear, they are more likely to take care of it and use it regularly.
Moreover, a uniquely decorated helmet can also make your child stand out in a crowd, making it easier for you to spot them during their outdoor adventures. It's a small detail that adds a layer of safety while also fostering creativity.
Additionally, the helmet is equipped with soft chin straps that won't irritate your child's skin and an easy-to-use buckle that ensures a secure fit.
Genesis: Offering Breathable and Durable Protection for Adults
The Genesis is an adult helmet that masterfully blends breathability with durability. It features a fully formed ABS shell that offers robust protection against impacts while maintaining a lightweight design in only about 489g. It accommodates head sizes from 54 to 61 cm and it's a size that fits most adults.
The helmet is lined with EPS foam that absorbs shock energy, significantly reducing the risk of injury in the event of a crash.
Adjustable Dial Fit System
Like its junior counterpart, the Genesis also features an Adjustable Dial Fit System that allows you to fine-tune the fit for optimal comfort.
The Genesis helmet is designed with a focus on both comfort and safety. It features 6 strategically placed vents that facilitate air circulation, keeping your head cool during your rides. These vents are designed to channel airflow through the helmet, effectively reducing heat build-up and promoting a cooler, more comfortable ride.
The adjustable nylon strap is not just a feature, it's a commitment to safety and comfort. Designed with skin-friendly materials, the strap ensures a snug and safe fit without compromising on comfort.
The strap is easily adjustable, allowing you to find the perfect fit for your head size. This means no more worrying about the helmet being too tight or too loose. You can adjust it to your liking, ensuring maximum comfort while wearing.
Moreover, the strap is made from durable nylon, a material known for its strength and longevity. This means that it can withstand the rigors of daily use while maintaining its shape and function.
Explore Our Online Store Today
We warmly invite you to explore our online store today and discover these incredible new helmets. Whether you're seeking a helmet for yourself or your child, we have the perfect fit for you. With EUNORAU, ride with confidence, safety, and style!