News
Great News: Eunorau E-Bikes Now Come with a 2-Year Warranty!
Oct 25, 2023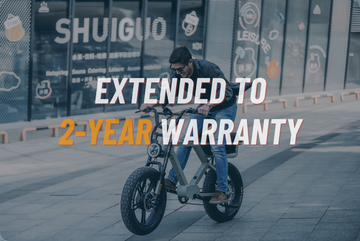 Are you looking for a reliable and durable e-bike that can power your lifestyle? If so, you'll be happy to hear that we have some great news for you. Eunorau has just announced a longer warranty period for its products. This means that you can enjoy your e-bike for longer with less worries.

Longer Warranty Period
We are proud of our strength and durability. Eunorau uses only the finest and most resilient materials to make our e-bikes. Now, we have gone a step further to assure you of our commitment to excellence. The warranty on our e-bikes has been extended from 1 year to 2 years! This extended warranty is only effective for customers purchasing after August 1st, 2023 and is not retroactive.
Warranty Requirements
To benefit from this extended warranty, there are a few requirements you need to meet:

1. Proof of Purchase: You need to provide a receipt or similar document with the date of purchase and the product name.
2. E-bike Registration: You need to register your e-bike right after the purchase at eunorau-ebike.com.
3. E-bike Check-up: Your e-bike needs to be checked up by one of our specialists or dealers after the first year of use.
4. Original Purchaser: The warranty is only valid for the original purchaser and does not transfer to another owner.

Please make sure you meet all these requirements to benefit from the extended warranty.
What Does This Mean for You?
This longer warranty period gives you more peace of mind as an Eunorau e-bike owner. It means that we stand behind the quality of our products. If you're thinking of buying an e-bike, this longer warranty makes us an even more attractive option.
Wrapping Up
We are delighted to offer you this longer warranty period. Whether you already own an e-bike or are planning to get one, this news highlights the value and trust that come with choosing us.
Power your lifestyle.